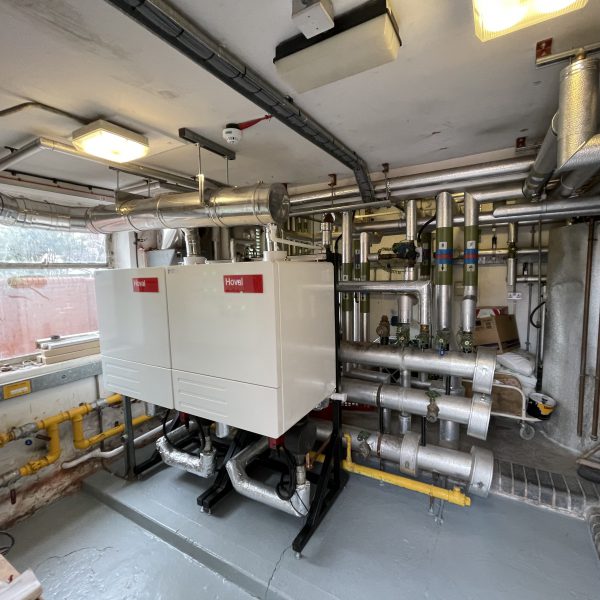 Heating
EMS offer heating services for the industrial and commercial sectors. Our in house, fully qualified heating team can help your business with the design, installation, and maintenance of heating systems.
Our experience working with offices, universities and manufacturing sectors means we fully understand the unique requirements of commercial businesses and will work with you to ensure that your business keeps running.
Heating Installation
Our install team are here to help you with your heating needs. EMS are OFTEC registered and we directly employ fully qualified Gas Safe engineers.
For a full list of our accreditations and certifications please click here.
When designing and installing a new heating system, our solution will always consider the following factors:
Cost Efficiency
When we look at the cost benefits for our customers, we don't just look at the short-term gains. We believe it's even more important to look at the long-term costs. When deciding on what heating solution will best work for your business we take into consideration running costs and potential repair costs.
Energy Efficiency
We understand the need to ensure that as a company you are meeting your energy efficiency goals. We will always try to provide you with a solution that allows you to do this with minimal compromise to the equipment's performance.
In order to provide you with the best solution, we follow this 5-step process:
Understand your needs – We will meet you to discuss any issues you have with your current equipment and what your requirements are from a new heating system.
Bespoke Design – We will survey and measure the building or room, understand its purpose, and produce a proposal including CAD drawings, which meets your requirements.
Schedule & Scope of Works – Upon your approval, we schedule the works to take place with minimal disruption, as per your instruction. We define a scope of works and step-by-step project plan.
Expert Installation – Our professional, highly skilled, Gas Safe engineers will deliver the proposed installation, whilst our contract coordinators keep you informed throughout.
Job Completion – We complete the job, enabling you to sign it off, and you business and work environment is kept running.
For more information about our design and installation services please take a look here.
Heating Maintenance and Repair
With over 20 years of experience helping businesses with their heating and cooling needs we understand that each customer is unique.
Our service and maintenance contracts are bespoke to each business and will take into account the use and age of your heating equipment. We tailor our services to suit each businesses requirements.
Here are just some of the commercial heating equipment that we look after:
Commercial boilers
Radiant tube heaters
Warm air heaters
Commercial water heaters
For more information about our service and maintenance please take a look at our dedicated page here.